Sat, 03/09/2019 - 20:06 —

trangtrinh
On March 8, 2019, a group of three students from VNU Key Laboratory for Smart Integrated Systems (Tran Xuan Tuyen, Nguyen Luong Bang, Pham Dinh Trung) presented their research results in the 22th LSI Design Contest in Okinawa, Japan. This is the 3rd time VNU University of Engineering and Technology students were provided full sponsors covering flight tickets and accommodation fee to participate as the finalists of the International LSI Design Contest, which is annually hosted in Japan.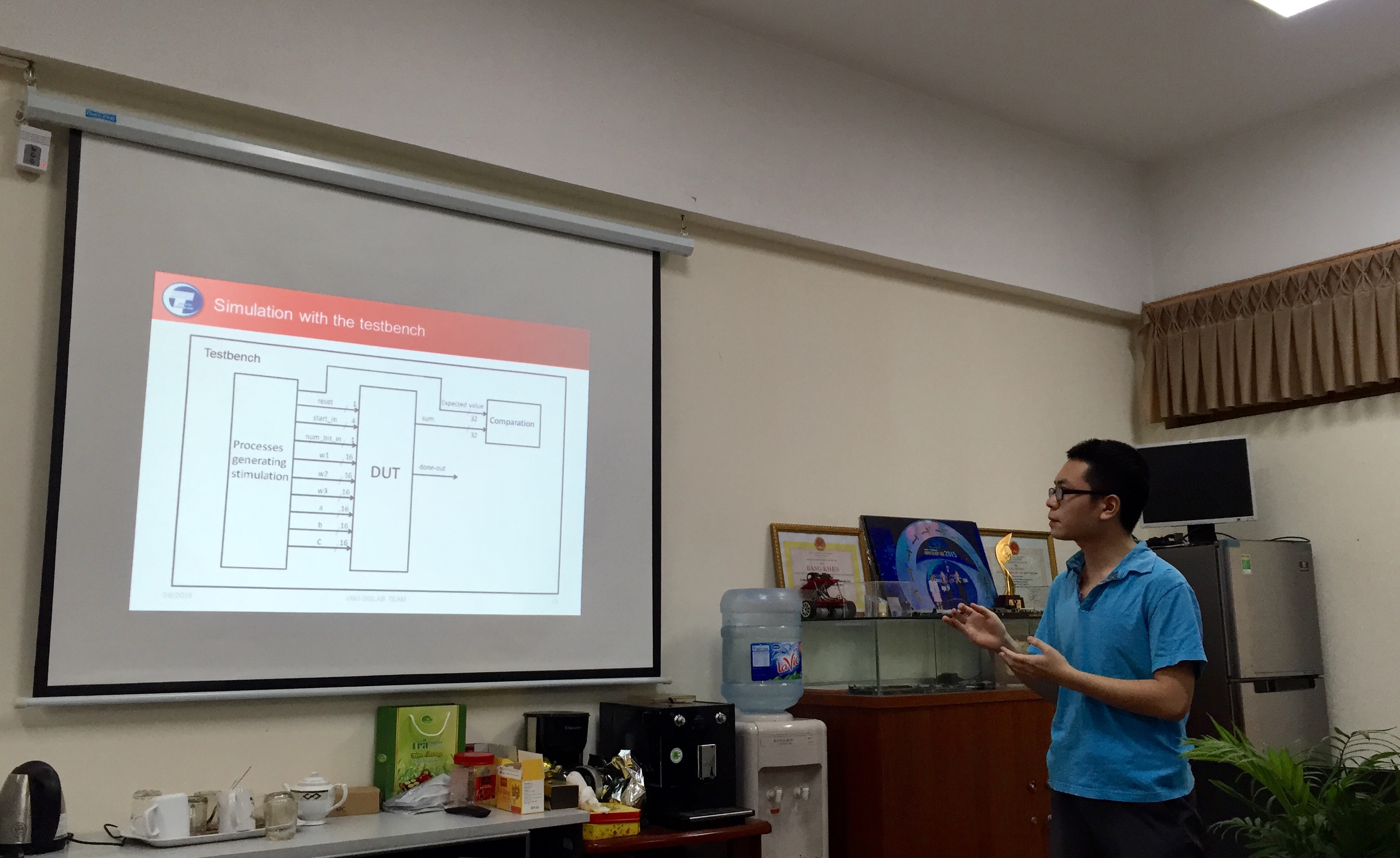 Tran Xuan Tuyen and his rehearsal at SISLAB before the round in Okinawa.
LSI Design Contest in Okinawa this year come back with a new design challenge which is "Deep Learning" (Backpropagation). In 2018, SISLAB students were the First Runner-up of the contest.
LSI Design Contest in Okinawa, which is hosted by Ryukyu University of Technology and Kyushu Institute of Technology (KyuTech), is an annual electronic design competition attracting participants from many Asian countries. The competition is also sponsored by the Institute of Electronics, Information and Communication Engineers (IEICE), Synopsys, Electronic Device Industry News, Gigafirm, AnalogDevices, Okinawa Industrial Association.
The spirit of this competition is to create the opportunity for the teams to exchange knowledge and to awaken the passion of students in the field of electronic design, especially the design of Large Scale Integrated (LSI). Each year, a prominent theme will be chosen. About 10 design teams with intelligent and creative ideas are selected to participate in the final round in Okinawa to present their project to the committee members. The winning team will be awarded by the organizing committee and the Institute of Electronics, Information and Communication Engineers (IEICE). 
English
Vietnamese dynamic contents: